When it comes to the digital sphere, finding the right hosting provider can make or break your website's performance. One of the providers making waves in this domain is NameCheap. This review will present an unbiased, comprehensive evaluation of NameCheap's hosting services, highlighting the offerings, pros, and cons to guide you in making an informed decision.
The Genesis of NameCheap
Established in 2000, NameCheap has steadily grown into a leading player in the hosting arena. It is not just the cost-effectiveness implied in its name that appeals to users, but a plethora of other robust features. Let's start by diving into NameCheap's main offerings:
Shared Hosting
VPS Hosting
Dedicated Hosting
WordPress Hosting
Reseller Hosting
Domain Names
Exploring NameCheap's Hosting Solutions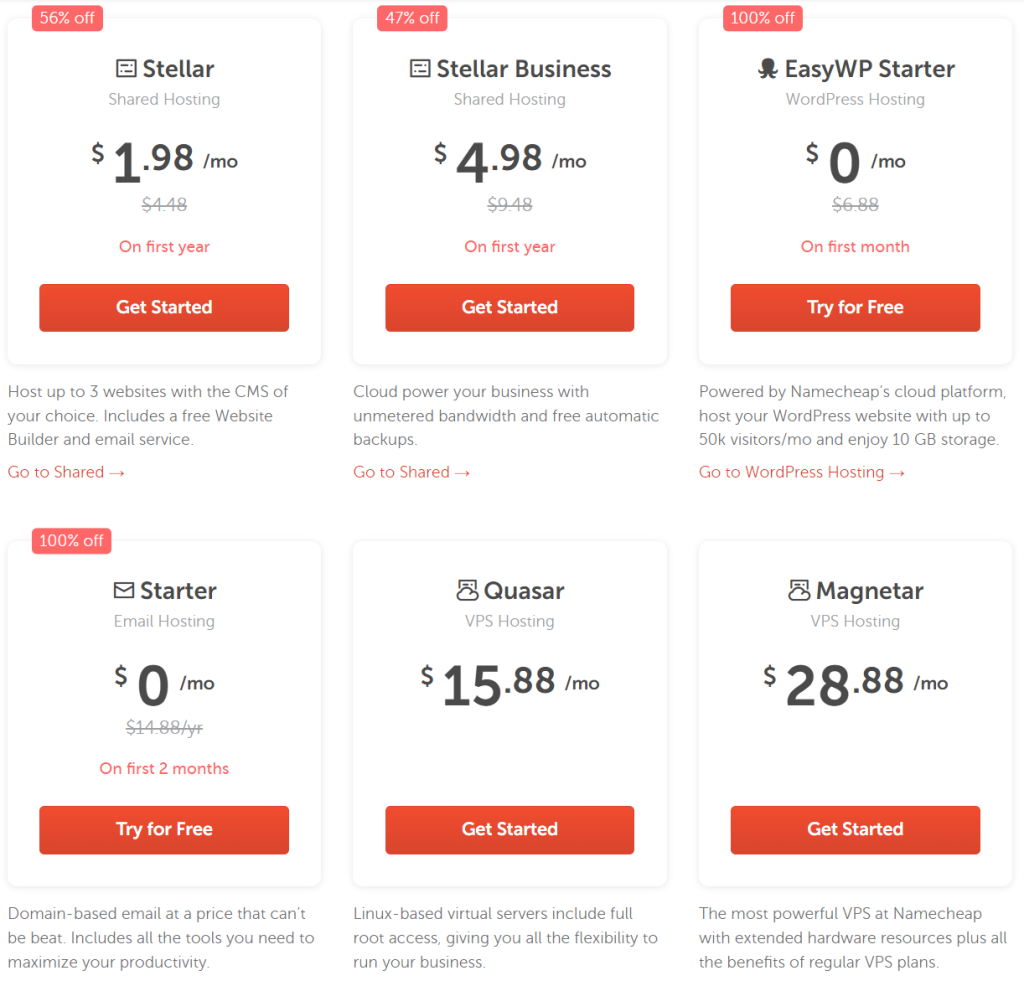 Shared Hosting
Shared hosting is a cost-effective solution, ideal for start-ups, personal blogs, or small websites. NameCheap's shared hosting has some outstanding features:
Stellar Performance: NameCheap ensures your website is fast and accessible with its solid performance in shared hosting.
Unmetered Bandwidth: There are no restrictions on data transfer, which is excellent for sites expecting high traffic.
Free Website Builder: This feature simplifies website creation, even for novices.
VPS Hosting
If your site requires more resources, VPS hosting is a robust choice. NameCheap's VPS hosting comes with:
Full Root Access: Offers greater control over your hosting environment.
Scalability: Resources can be scaled up as your website grows, minimizing downtime.
High-Performance Network: Speed and accessibility are guaranteed with NameCheap's high-performance network.
Dedicated Hosting
For those seeking maximum control and power, dedicated hosting is the perfect solution. NameCheap's dedicated hosting offers:
Complete Isolation: Your server resources are entirely yours, ensuring optimal performance.
Resilient Network Structure: NameCheap's resilient network structure promises a high uptime rate.
Choice of Operating System: You can select an OS that best aligns with your requirements.
WordPress Hosting
WordPress hosting is tailored for WordPress websites, offering a seamless experience. Key features of NameCheap's WordPress hosting include:
Easy Set-up: NameCheap offers one-click WordPress installation.
Managed Updates: NameCheap handles WordPress updates, ensuring your site's optimal performance.
SFTP Access: This feature allows secure file transfer, a boon for developers.
Reseller Hosting
NameCheap offers a reseller hosting package that allows users to start their own hosting business. This service includes:
White-Label Hosting: You can brand your service and establish a unique identity.
WHM and cPanel: These tools simplify the process of managing and customizing individual hosting packages.
Domain Names
In addition to hosting, NameCheap offers domain registration services, thus providing a one-stop solution for both domain names and hosting needs.
Customer Support
NameCheap stands out for its responsive and reliable customer support. It offers 24/7 live chat, an extensive knowledge base, and ticketing system to help you resolve any issues quickly.
The Pros and Cons
Having dissected NameCheap's offerings, let's dive into its advantages and disadvantages:
Pros:
Affordable and feature-rich hosting solutions
Strong customer service, with 24/7 live chat
Free website migration
User-friendly interface with cPanel
Free domain name and privacy protection with hosting packages
Cons:
No phone support
Uptime can be inconsistent
Premium features often come at an extra cost
WordPress hosting plan lacks email service
Wrapping It Up
Despite a few downsides, such as inconsistent uptime and lack of phone support, NameCheap offers a comprehensive set of hosting solutions that cater to a wide range of needs. It's an excellent choice for beginners due to its affordability and user-friendly interface.
At the same time, it can effectively cater to advanced users with its VPS and dedicated hosting options.
Whether you plan to launch a personal blog, run a high-traffic business website, or venture into the hosting business, NameCheap provides an array of services that align with various needs and budgets. However, as with any hosting service, your specific requirements should dictate your choice.
Therefore, use this review as a tool to evaluate how well NameCheap can fulfill your needs. Happy hosting!