The world of web hosting is vast and diverse, offering countless options to meet every conceivable need. Amidst this sea of choices, FastComet hosting shines brightly, providing a multitude of features designed to make your hosting experience smooth and hassle-free. This review will delve into the specifics of FastComet's offerings and outline the pros and cons of their service.
Introducing FastComet Hosting
FastComet is a reputable web hosting company that's been in operation since 2013. With an emphasis on transparency, speed, and top-tier support, they offer a host of services including:
Shared Hosting
Cloud VPS Hosting
Dedicated Server Hosting
Unpacking FastComet's Services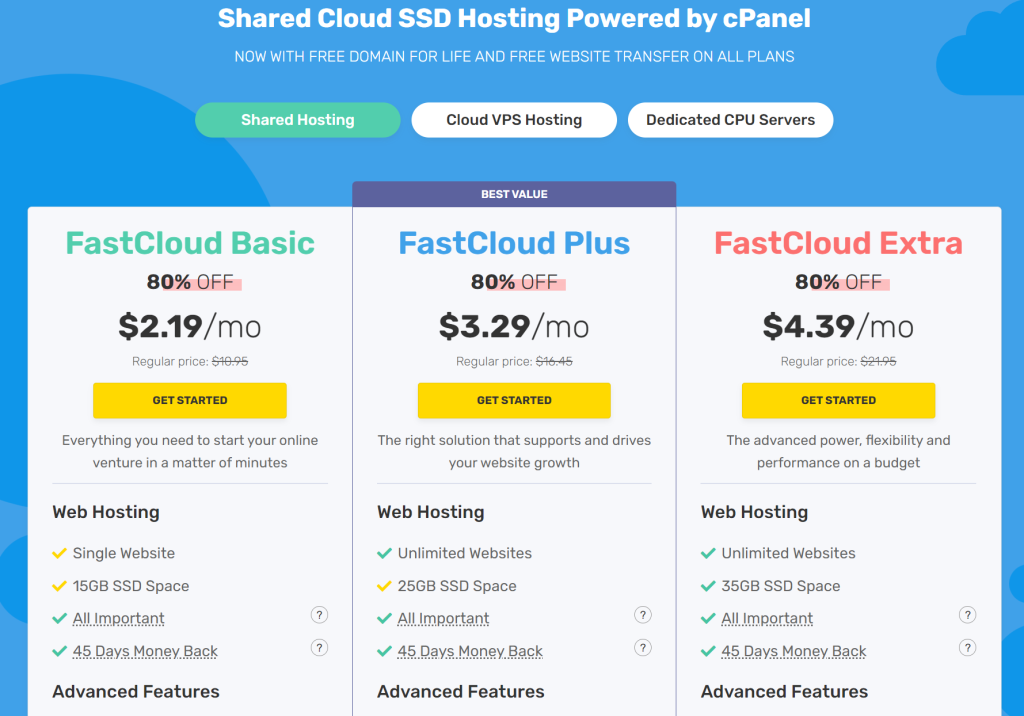 Shared Hosting
This is FastComet's most accessible and affordable offering. It's perfect for small to medium-sized businesses or personal websites. Shared Hosting includes:
FastCloud: For starters who require simple website hosting.
FastCloud Plus: Ideal for growing websites with increasing traffic.
FastCloud Extra: Made for large scale websites with heavy traffic.
Cloud VPS Hosting
Designed for websites with increasing traffic, FastComet's Cloud VPS Hosting offers more power and flexibility. It's divided into four main plans:
Cloud 1: For small businesses looking for dedicated resources.
Cloud 2: Suitable for growing online businesses.
Cloud 3: Created for popular online businesses.
Cloud 4: Geared towards large-scale corporate projects.
Dedicated Server Hosting
This premium offering is best suited for large enterprises needing unparalleled performance, complete control, and dedicated resources. The Dedicated Server Hosting comprises four plans:
DS 1: For websites with heavy traffic.
DS 2: Ideal for e-commerce businesses.
DS 3: For large-scale corporate projects.
DS 4: Suited for businesses with global reach and high traffic.
FastComet Customer Support
FastComet shines in the customer support arena. They offer 24/7/365 support via live chat, ticket, and phone system. Additionally, they provide a substantial knowledge base of articles, guides, and video tutorials.
FastComet: Pros and Cons
Pros:
Transparent Pricing: FastComet offers a simple, straightforward pricing model with no hidden charges.
Free Daily Backups: This adds an extra layer of security for your website data.
45-Day Money-Back Guarantee: This gives you plenty of time to test their service risk-free.
Cons:
Limited Data Centers: FastComet only has 11 data centers worldwide, which could impact site speed in certain regions.
Setup Fees for Monthly Plans: There are setup fees if you choose to pay on a monthly basis, which isn't the case with longer-term plans.
Conclusion
FastComet is a commendable hosting provider that stands out with its commitment to transparency, robust features, and excellent customer support. Whether you're running a small business website or a large e-commerce platform, FastComet offers hosting plans that cater to a variety of needs.
While their limited number of data centers might be a downside for some, their top-tier features such as free daily backups, a 45-day money-back guarantee, and a straightforward pricing structure make them a worthy contender in the hosting market.
In conclusion, FastComet offers a compelling package for anyone looking for a reliable, transparent, and feature-packed hosting service.
We hope this comprehensive review helps you in your quest to find the perfect hosting solution for your needs.